The UK's chief negotiator with the EU handed in his sudden resignation at the end of 2021, capping weeks of turmoil and questions for Prime Minister Boris Johnson.
But it wasn't over Brexit; David Frost claimed it was because he couldn't support "coercive" covid measures.
Lord Frost, a keen Brexiteer and ally of prime minister Boris Johnson, said in his resignation letter that "Brexit is now secure" but expressed concern about "the current direction of travel".
A recent internal poll by the ConservativeHome website read by grassroots Tories ranked him second in their "net satisfaction" ratings of cabinet ministers. Boris Johnson was 30th on the list.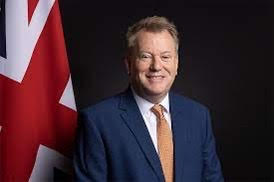 At the top was Liz Truss, recently promoted to foreign secretary and almost immediately appointed to replace Lord Frost in dealing with the EU in the wake of Brexit.
AEJ UK chairman William Horsley examined her record on media freedom and noted that despite the UK making media freedom a first-order issue in 2019 it has turned a blind eye to gross violations by allies like Saudi Arabia and Turkey.
Before being named foreign secretary Liz Truss was international trade secretary responsible for negotiating the UK's trade deals post Brexit.
The first trade deal touted by the government as brand new was signed in mid-December 2021 with Australia – sparking concern about its terms from UK farmers, environmentalists and unions.
The UK department for international trade estimated the deal could increase the size of the UK economy by 0.08% of GDP from the year 2035.
The independent Office for Budget Responsibility has estimated the long term loss from leaving the European Union could be about 4% of GDP.
In the two years since the UK left the EU it signed trade deals and agreements in principle with 69 countries, the vast majority of them "rollover" deals, duplicating the same terms as the UK had under prior EU agreements.
For most of those two years the covid pandemic overshadowed Brexit.
Two years with scant evidence of much progress in rebuilding relations with the EU and punctuated by spats particularly over the Northern Ireland protocol, fishing rights, and asylum seeking migrants crossing the English Channel.
Two years in which dire predictions about the impact on jobs and trading in City of London financial services proved inaccurate despite the loss of access to EU capital markets, the loss of billions of euros in share trading, and financial assets worth more than an estimated trillion pounds sterling moving to eurozone hubs.
Job losses appeared minimal and the value of financial services exports remained stable as the U.S. supplanted the EU as the City's largest export market.
And two years in which the UK political landscape appears transformed and the real impact of Brexit on the UK public and the economy remains unclear.
The AEJ UK has examined the Brexit debate and relations between the UK and the EU for much of the last 5 years.

Frost resigns
Frost blames covid
Frost resignation letter
Frost resignation reported in France
ConservativeHome poll
Lord Frost profile
David Frost record
Liz Truss takes over
AEJ chairman on Liz Truss
Liz Truss profile
Liz Truss Conservative leadership candidate
Australia trade deal
UK trade deals since Brexit
UK Parliament status report on free trade negotiations
Brexit – the Northern Ireland Protocol runs into 2022
Brexit and fishing
Brexit and migrants
Financial services impact
USA replaces EU in financial services exports
What future for Remainers?
The impact of Brexit – a view from Scotland
The impact of Brexit – shifting trade patterns in Ireland
A year of Brexit Britain – a range of views
AEJ guests on Brexit