Four years ago investigative journalist Daphne Caruana Galizia was murdered in a car bomb attack in Malta.

Yet justice and accountability remain elusive despite a public inquiry that found the state responsible for her killing.

On the anniversary of her death on October 16 2017, the AEJ joined 15 international journalists' and civil society organisations to renew calls for the Maltese government to accept the inquiry's detailed recommendations, publish a plan of action on how they will be implemented, and ensure better protection of journalists going forward.

The AEJ notes that the government whose corruption she investigated repeatedly obstructed the path to justice including delays to the public inquiry.

Dozens of civil defamation lawsuits continued against her posthumously.
And human rights defenders and journalists campaigning on her case have been subjected to serious pressure, harassment and acts of reprisal.

So far, eight men have either admitted to or been charged with complicity to kill her.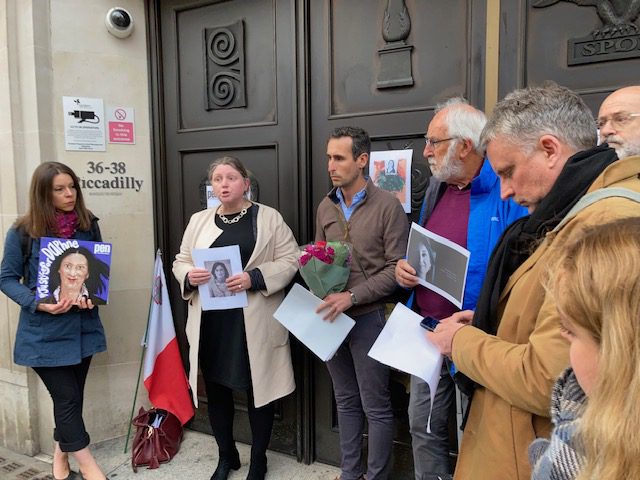 In London the AEJ joined other media freedom organisations in a commemoration vigil outside Malta's High Commission.

The vigil included a message from Daphne's family and speakers from sponsor orgnisations including the Maltese community in London, ARTICLE 19, the Association of European Journalists, the Commonwealth Journalists Association, Index on Censorship, PEN International, Reporters Without Borders, and Transparency International-UK.

International joint call for justice
London vigil and message from Daphne's family
Public inquiry report (partial translation)