The Commonwealth Journalists Association has welcomed the adoption by Commonwealth Law Ministers of a set of principles on media freedom – and urged them to "match its words with actions".

In an historic agreement announced on November 25, a meeting of Commonwealth Law Ministers approved a set of "Principles on Freedom of Expression and the Role of the Media in Good Governance". They recommended the principles for consideration at the next summit of Commonwealth leaders due in Samoa in 2024.
The Commonwealth includes countries in Africa, Asia, the Americas and Caribbean, the Pacific and in Europe – Cyprus, Malta and the UK.
The agreement is "a significant moment for the Commonwealth's 56 member countries, but practical and effective actions must follow" noted Wiliam Horsley, an executive member of the Commonwealth journalist group and AEJ UK chairman
The unanimous decision by law ministers followed six years of persistent advocacy by the CJA and five other professional associations representing members in every part of the Commonwealth.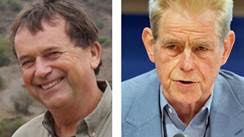 The CJA executive committee statement says in full:
Commonwealth journalists call for legal guarantees of the right to report
20 December 2022
1. The CJA welcomes the adoption of the Media Principles by Commonwealth Law Ministers at their November 2022 meeting in Mauritius. We urge the Commonwealth to match its words with actions by providing effective protection for the safety of journalists, ensuring that state authorities respect international law standards on media freedom, and creating a favourable environment for media workers to work without fear and without arbitrary political, judicial or administrative interference.
2. We note with dismay that murders and other violent attacks targeting journalists because of their work in Commonwealth member countries have increased in scale and intensity, as reported by UNESCO's Observatory of Killed Journalists. We call on member states and the Secretariat to fulfil the political commitments they have made in successive United Nations Resolutions to publicly condemn such attacks and put in place effective measures of protection when journalists face serious threats to life.
3. We welcome the recent interventions by members of the High Level Panel of Legal Experts on Media Freedom, who have called on Commonwealth member states to act urgently and with determination to ensure that those responsible for journalists' killings are brought to justice through prompt, impartial and effective investigations; that cultures of impunity are eradicated; and that overly-restrictive laws which are liable to criminalise the legitimate work of journalists, such as those on criminal defamation, criticism of public figures, and spreading false news, are reviewed and amended or repealed without delay.
4. We call on the governments of the 56 Commonwealth member states to align the organisation and their own national policies with the goals, priority actions, and recommended mechanisms of the United Nations Plan of Action on the Safety of Journalists and the Issue of Impunity.
5. The CJA urges Commonwealth member states to review the problematic failure of the Commonwealth Ministerial Action Group to fulfil its mandate of challenging serious or systemic constraints against civil society and media in Commonwealth countries; and to establish effective mechanisms to achieve that purpose in open consultation with concerned civil society organisations and international authorities on the protection of civil and political rights.
CJA Executive Committee www.commonwealthjournalists.org
Enquiries: William Horsley wh@williamhorsley.com
Media freedom summary report – Institute of Commonwealth Studies