From friend and colleague David Barker:
Raconteur, jazz aficionado, editor, writer and most of all a friend to the many people whose lives he touched….  Frank died on 7 October 2013, just four days after his 72nd birthday, following a stroke in late May and months in hospital after.

Frank had a long career in journalism, mostly at the Financial Times and FT Newsletters, and was still freelancing articles until his stroke. He wrote The Crazy Life of Brendan Behan, a biography published in 2010 and a voyage that Frank began in 1961 when Behan visited Frank's home town of San Francisco.

Along the way, Frank followed his fascinations and passions – living and walking in the footsteps of Ernest Hemingway; smoking cigars and writing about them; boxing and baseball; telling and retelling countless stories.

Frank was born and grew up in San Francisco. At the age of 18, returning from a family trip to Europe, he met his wife Carole and they married four years later.
Frank was already working as a teletype operator at Western Union but soon afterwards Frank and Carole left the west coast to start a new life in Canada – Frank's mother was  French-Canadian and Carole had migrated with her family to Canada.

In Toronto, Frank studied history part-time at the University of Toronto and started work at The Canadian Press. "Toronto was a useful bureau to have worked in," he once told me. "I had a good break or two there, and while there were few big stories for us cubs there were plenty of little ones to cover." 

For Frank, the big story happened in Montreal where we first met at CP, a wacky office with wacky characters. It was a time he remembered with great fondness and they were people he remembered with characteristic anecdotes. Even from his hospital bed in the last few months, Frank spoke wistfully of former colleagues and still wanted to track them down.

The story that touched Frank and all of us at the time was the October Crisis of 1970 when the Front de Libération du Québec kidnapped the British Trade Commissioner and Prime Minister Pierre Trudeau invoked the War Measures Act and sent in the Canadian army.

Frank left us only two days past its latest anniversary – a date he would always mark as it had marked a key moment both for him and for the Québecois campaign to assert a unique French identity and independence from English-speaking Canada.

In 1972, Frank left CP to take a job as public relations manager with Air Canada with stints in Montreal and Vancouver. 
Five years later, Carole wanted to come back to the UK and the family, now with three young children. moved to London.
Frank freelanced and hustled, then began a career at the FT – first as a reporter working for the world trade page under the editorship of Margaret Hughes (later Secretary of the AEJ UK ), then succeeding her as page editor. Later he worked on the foreign desk as a commissioning editor. 
"He used to love trying to sneak headlines through the desk checks," says friend and colleague Chris Cragg. "I remember one: 'VD More Common than Thought in Egypt'. Frank was a very good sub – endlessly helpful to other people, standing in, a second eye."

In 1986, Frank joined Robert Maxwell's new venture, the London Daily News, as assistant city editor. It folded after only five months in 1987 although Frank stayed on to help wind it up – only a few months' work but a lifetime of tales. 

The next year, Frank was back at the FT, in Newsletters, hired by his FT colleague Dennis Kiley to start up and edit Power in Asia. He went on to start and co-edit Power in Latin America, contribute articles to other FT publications like Energy Economist and Energy World, and provide his expertise at FT conferences.
"At Newsletters, the level of journalism was quite different and extremely complex," notes Cragg.
Subscribers paid high prices – £500-£1000 a year – for specialised information that had to be both accurate and informed. For those who did it well there was "a great deal of mutual respect between editors and their readers and the more respect you get, the more people will tell you things."
The job was not just editing – it was reporter, writer, proof reader, second eye, editor, a "one-man band". Cragg again: "You'd finish the edition, go out and get pissed, and then have to start on the next one. It was not an easy life."

Frank travelled extensively in Asia but not to Vietnam – the place he wanted to see because the US army had intended it for him back in the 1960s. Once when a flight was stopping over, he even asked to stand on the ground outside the plane for just a moment. Only later in life, after he officially retired, was Frank able to reclaim his American citizenship and passport, adding that to his adopted Canadian and British nationalities.

His final journalistic chapter was typically spent helping colleagues. As Platts took over the FT's energy business in 2001, Frank acted as father of the chapel, without the official union position but with NUJ help, supporting FT colleagues, struggling and negotiating to ensure that FT Newsletters staff got the same holidays, pensions and redundancies when they moved to Platts.

I arrived back in England the next year when Frank retired and he said I must come to an AEJ lunch. That lunch launched my life in the decade since – all the things I did, the people I met. Frank always had time for friends and we had stayed in touch over the years – drinks on the Vancouver harbourfront, long afternoon lunches at Sardo's in London, dinner and cigars on the water in Singapore. Always stories and laughter. 

"He was never happier," say his family of their holiday times in Malaga, "than sitting on the balcony with a good book, a glass of sherry and a cigar – with his favourite jazz music playing in the background."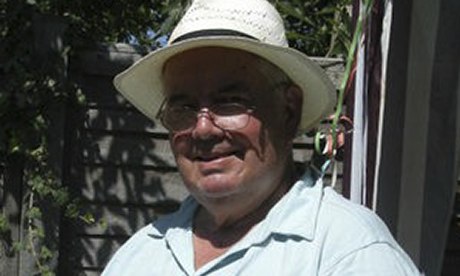 Frank's obituary, written by his daughter Natasha, was published in The Guardian on 7 November 2013. And another obituary was published in the San Francisco Chronicle on 18 November.
Friends and colleagues write:
Jimmy Burns, FT colleague: I will always remember Frank as one of the most generous, self-effacing, and amusing of colleagues with a huge love of life and journalism as a profession that could contribute to it. To me, the gusto with which he wrote about Cuban cigars and at one time smoked them was totemic. It exemplified his enjoyment of comradeship, along with good food, and wine. After his first visit to Cuba, he always tried to practice his Spanish on me. I called him Frankito, which he liked, on and off the foreign desk where he was always an understated but incisive presence that I hugely valued. He touched me with his effortless and generous humanity. 

David Buchan, FT and AEJ colleague: Frank was a pleasure to be with, his humour was dry and wry and never mean, and we will miss him both at FT gatherings and latterly at the Association of European Hacks. 
William Horsley, Chairman, UK Section: Frank was for many years a pillar of support and often inspired contributions to the life of the AEJ and to our meetings. The excellent innovation of an AEJ UK Student Journalist Support Scheme, which was expanded this year to include sharply discounted rates for under-25 journalists in our activities, was his original brainchild. I'd like to express my special admiration and sense of loss at Frank's death. He was a true friend to many of us and his always warm presence will be grievously missed.
Sid Tafler, journalist and author: Frank Gray was a talented, thoughtful journalist but, more importantly, a fine human being. I worked with him at Canadian Press – a sink-or-swim kind of place for a young kid like me with no experience. Without the good-humored mentorship of Frank and a few other people, I would have sunk.
My memory of a particular evening shift … under Frank's desk was a jug of red wine. We wrote, rewrote and filed stories and did phone interviews non-stop. Every few minutes the jug came out and Frank filled our coffee cups. It was a rollicking fun night, we were soused, but on the job getting the work done, telling the world what was happening in Montreal that night. Nothing unusual about that.
Candida Jones, FT colleague: Frank was an extremely funny, mischievous and cultured man. He was also an excellent journalist and a loyal colleague who defended his fellow journalists in the face of adversity, or offered a shoulder and a wise head when his friends and colleagues needed them.
Frank was perfectly suited to the life of a hack. Deadlines were followed by several bottles of wine, always in company, and many cigars. His copy was crisp, tight, well-researched and occasionally just a little subversive (blink and you'd miss it).
I always trusted Frank's advice and guidance (even when he'd say "just print it, it's too good to check!") and since he was acting father of our NUJ chapel, we all knew we had gold dust on our side.
Frank loved people and they loved him. I will sorely miss our meals on The Riviera (Warren Street), our plots to overthrow the bosses and our late-night marathon drinking sessions.
During lulls at work, he would sometimes dial the Pennsylvia hotel (Pennsylvania 65000) so we could all listen to the hold music, written of course by Glenn Miller.
As he used to say, he was indeed a River To His People and I loved him.
Kevin d'Arcy, former Secretary, UK Section: The magnetic Frank Gray, mischievously, always introduced me to his many friends as his oldest friend in Britain. We met in 1977 when he arrived in London, looking for work, at the London studios of the Canadian Broadcasting Corporation, an excellent club for freelancers. I introduced him to the AEJ. He brought many from the FT with him. We have met nearly every week since, for drink and the highest quality gossip. He will leave a major hole.
Mike Springate, Treasurer, UK Section: That is very sad news indeed. He was a splendid man – a knowledgeable, witty and charming member of the AEJ. Frank and I had a shared history in the good old days of civil aviation – he had worked in Vancouver for Air Canada and I had worked as Canada Manager to extend BA's operations to the west coast. I will miss his warm sense of humour and ingenious financial tactics! 
A selection of Frank Gray's articles
Stan Musial: Baseball player considered one of the best in history (Independent, 23 January 2013)
Alejandro Robaina: Cuban tobacco grower and master cigar-maker (Guardian, 7 June 2010)
Conchita Cintrón: Matador who led the way for women in the bullring (Independent, 7 March 2009)
Marpessa Dawn and Breno Mello: The stars of Black Orpheus died within a month of each other (Guardian, 29 October 2008)
John Barnes: Passionate collector and historian who chronicled the early days of British cinema (Guardian, 25 June 2008, with Stephen Herbert)
Desmond MacNamara: Pivotal figure in Bohemian Dublin (Independent, 21 January 2008)
Blood of the matador: Nerves, whisky and a rampaging beast … Frank Gray on a film about the colourful life and gory death of a bullfighting legend – Manolete (Guardian, 7 January 2008)
Edward R Murrow: Murrow's reincarnation in George Clooney's "Good Night and Good Luck" (Wall Street Journal, 11 November 2005)
Solo in Sunnyside: Frank Gray travels through Queens, New York, in search of the late Bix Beiderbecke (Guardian, 30 April 2005)