In conversation with journalist and writer David Worsfold
October 4th, from 12:00 noon at Regent's University London; co-hosted by Regent's University and the AEJ
Lord Patten, the Chancellor of Oxford University, was the last British governor of Hong Kong and an EU Commissioner for External Affairs during a long career of exceptional public service. He is the author of several books including East and West and The Hong Kong Diaries, and an outspoken critic of China which he has described as "a threat to the UK's long-term security, values and institutions". In this Guest Lecture co-hosted by Regent's University London and the Association of European Journalists he will share his reflections on How should democracies deal with China?
In July parliament's Intelligence and Security Committee voiced alarm over China's unscrupulous efforts to gain control or influence over strategic sectors of UK industry, technology and academia. The dismantling of legal and political safeguards for fundamental rights in Hong Kong presents a special challenge for the UK. And urgent concerns have been raised about China's use of censorship tools and networks of information control to advance its geo-strategic goals.
Lord Patten has said the UK must engage with China over issues like climate change, but beware of compromising its commitment to democratic values, saying "totalitarianism doesn't last forever."
This lecture and discussion will be a chance to explore how this country should respond to China's public rejection of a so-called "liberal world order".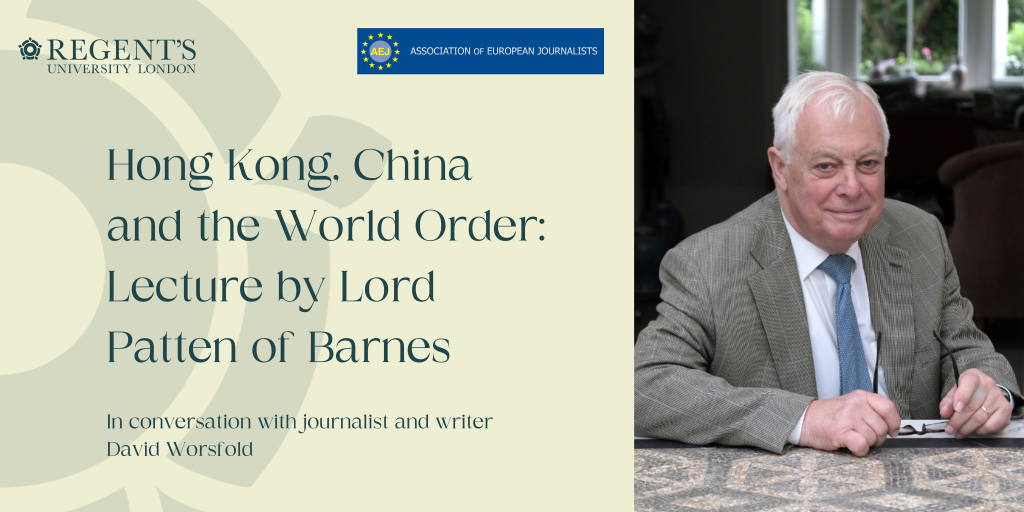 • This special event is open to AEJ members and invited guests only. Other regular AEJ events are open by pre-registration to journalists and students of journalism.
• Reports on our meetings can be accessed via the Events tab on this site.